Cree launches new high performance XLamp® XT-E Royal Blue LED and patent licensing program for remote phosphor applications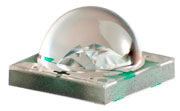 Cree has announced commercial availability of a new XLamp® XT-E Royal Blue LED optimised for use in remote phosphor lighting and other applications with similar requirements. The new XLamp XT-E LED delivers the industry's tightest wavelength bins combined with category leading brightness to simplify remote phosphor designs and lower system costs.

In addition, Cree has announced a remote phosphor component patent licensing program that provides access to Cree's pioneering remote phosphor patents. The program is designed to drive the LED lighting revolution by enabling lighting fixture companies to develop and introduce their own high quality LED system products using LEDs such as the XLamp XT-E Royal Blue. With a licence under the new program, lighting OEMs can gain access to a number of fundamental Cree patents required to manufacture and use the combination of a remote phosphor optical element with blue LEDs in LED lighting applications.

"Customers using remote phosphor designs for their lighting products need both high output and consistent colour," said Mike Watson, Cree senior director of marketing, LED components. "The new Cree XLamp XT-E RoyalBlue LED outperforms the competition in both elements enabling our customers to design high performance and low cost systems."

Built using Cree's proven Direct Attach™ LED technology that delivers higher flux, lower forward voltage and lower thermal resistance than other technologies, the XLamp XT-E Royal Blue LED delivers up to 525 mW at 350 mA and 85°C. The new XT-E Royal Blue LED is also available in 2.5 nm wavelength bins to allow customers to achieve desired colour consistency.

XLamp XT-E Royal Blue LEDs are available now with standard lead times.
For more information, or details on the full range of Cree products available from Anglia, please email info@anglia.com
To visit the Anglia Lighting website, click here.
Alternatively, click on this link to go to the main Cree section where you can view other news articles and product data.

This news article was originally published in December 2011.