Automotive News from Anglia

Avago has announced the addition of three new isolation optocouplers to their R²Coupler family that provide safe isolation for EV and HEV applications such as onboard charging systems and powertrain inverters.

ST has revealed its pace-setting switch ICs for vehicle electronics such as lights and body modules. The new devices provide enhanced intelligent features, improve protection and reliability, and are up to 40% smaller than competing alternatives.

STMicroelectronics is helping vehicle electronics manufacturers deliver safer, more reliable systems by offering the only surge protection devices certified to the automotive industry's preferred specifications.

To meet high automotive standards and thermal stress, ST 24V M0-A5 devices embed an internal control, called Power Limitation, that reduces silicon degradation by turning off the internal vertical power MOSFET when the junction temperature increases.

The AEC Q200-qualified automotive AntennaGuard series of MLV devices deliver low insertion loss, low leakage current and unsurpassed reliability compared to diode options.

Equipped with metal pins, Murata's new KCM capacitor series has been specifically designed for long-term resilience against sharp temperature changes in automotive environments and to withstand the high levels of vibration and mechanical impact.

Anglia will be exhibiting at the Commercial Vehicle Show, 24th - 26th April, at the NEC, Birmingham. Hall 3 Stand G23.

Intersil has introduced a space-saving, AEC-Q100-qualified dual synchronous step-down DC/DC regulator featuring a 2.25MHz switching frequency to minimise solution size.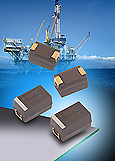 Based on a unique design, distinct manufacturing processes and special ageing techniques, these capacitors guarantee high temperature performance for a variety of harsh applications such as oil drilling, aerospace/defense and automotive.

Panasonic has released the FP-Series, a new range of surface mounting aluminium electrolytic capacitors with significantly lower ESR characteristics, offering a serious and cost effective alternative to tantalum capacitors.