Keystone releases its latest full line Catalogue of interconnect components and electronic hardware.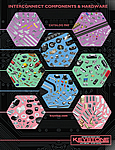 Overview
The Bussmann® Electronic Fuse family offers failsafe circuit protection devices in SMD, Thru-Hole and traditional Ferrule Fuse packages including Blade Fuses, Brick Fuses, Chip Fuses, Ferrule Fuses, Fuse Accessories, Traditional Subminiature Fuses as well as FuseBlocks, Fuseholders and Fuseclips.
Latest News

31 July 2012
Cooper Bussmann has announced the launch of the S505H series of time-delay 5 x 20mm ceramic tube fuses that provides higher voltage ratings and breaking capacities than standard IEC 60127-2 fuses.
Click here to read the rest of this article.
Latest Literature
Product selector guide
PDF (931 KB)