8-bit Microcontroller from STMicroelectronics Delivers Uniquely Flexible Feature Set in Space/Cost-Saving 8-Pin Package

Cree continues to lead LED industry with even brighter lighting-class LED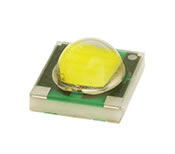 Cree has extended the advantage of its innovative, industry-leading XLamp® LED family by announing new levels of performance for its highly efficient XLamp XP-G LEDs, which now deliver up to 140 lumens per watt. The proven XP-G LED can help lighting manufacturers reduce system cost and complexity and can make existing designs brighter and more efficient.

With its popular form factor, these increases in brightness and efficacy can shorten the LED fixture design cycle and improve customer time to market, with drop-in-ready performance enhancements. Cree XP-G LEDs also boast the longest projected lifetime data published, reflecting the reliability customers have come to expect from Cree lighting-class LEDs.

"The XLamp XP-G is an oft-imitated yet unmatched lighting-class LED," said Mike Watson, Cree senior directorof marketing, LED Components. "Never content, Cree continues to innovate with this highly efficient platform—raising our bar yet again by providing commercially available 140 lumen per watt components. For lighting manufacturers looking to lower system cost through high performance LEDs, the answer is Cree."

Cree's XLamp XP-G LEDs are the industry's premier LED optimised for directional lighting, used in a variety of applications from street and area lighting to PAR replacement lamps to high-output flashlights. Cree is also the first LED supplier to publish 10,000 hours of lifetime data, which can allow customers to project TM-21 reported lifetimes greater than 60,000 hours, or nearly seven years.

The cool white XLamp XP-G provides up to 148 lumens and 141 lumens per watt, while the outdoor white (4000K) XP-G LED delivers up to 139 lumens and 132 lumens per watt and warm white (3000K) offers up to 122 lumens and 116 lumens per watt, all at 350mA.

XLamp XP-G LEDs are available now with standard lead times.
For more information, or details on the full range of Cree products available from Anglia, please email info@anglia.com
To visit the Anglia Lighting website, click here.
Alternatively, click on this link to go to the main Cree section where you can view other news articles and product data.

This news article was originally published in October 2011.