Data Acquisition System from Analog Devices Protects Smart Grid Equipment from Harmful Faults While Improving Power Delivery, samples and eval kits available from Anglia

Industry-leading accuracy from the new MCP3903 AFE from Microchip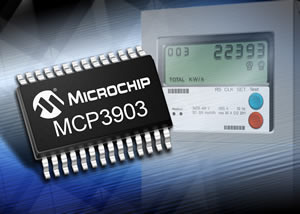 Microchip's first stand-alone 6-channel Analogue Front-End (AFE) simplifies smart metering and power monitoring of three-phase supplies or multiple loads by simultaneously sampling six inputs and delivering industry-leading accuracy.
The MCP3903 AFE combines a typical signal-to-noise and distortion (SINAD) of 91 dB and total harmonic distortion (THD) of -104 dB to give you industry-leading accuracy for smart metering and power monitoring applications.
By integrating six 16-/24-bit delta-sigma analogue-to-digital converters (ADCs), the MCP3903 lets you sample six inputs simultaneously to reduce component count and cost. The MCP3903 also packs programmable gain amplifiers (PGAs), a low-drift voltage reference and phase-delay compensation into a 28-pin SSOP to give you the flexibility to streamline and add more functions your design.
Pair the MCP3903 with a PIC® microcontroller, for a complete, high-accuracy solution for utility meters, power-monitoring equipment and instrumentation.
Design support
• Start your design with the MCP3903 Evaluation Board for 16-bit MCU (ADM00310)
• Explore LCD Flash PIC MCUs with the PICDEMTM LCD 2 demonstration board (DM163030)
• Evaluate 16- and 32-bit MCUs and dsPIC33F DSCs with the Explorer 16 development board (DM240001/2)
• Add IEEE 802.15.4TM/ZigBee® and IEEE 802.11TM/WiFi with the PICtailTM daughtercard (AC164134-1)
Get started in 3 Easy Steps:
1. Combine the MCP3903 with a PIC MCU or dsPIC® DSC
2. Learn from the Utility Metering Design Centre at www.microchip.com/get/eumeter
3. Design meters and monitors with industry-leading accuracy

For more information, or details on the full range of Microchip products available from Anglia, please email info@anglia.com
Alternatively, click on this link to go to the main Microchip section where you can view other news articles and product data.

This news article was originally published in October 2011.