Cree Brings Highest Reliability to Broadest Family of Metal COB LED Designs With Addition of New CMT LED Arrays

Hirose's DF59 series provides a multifunctional LED connection system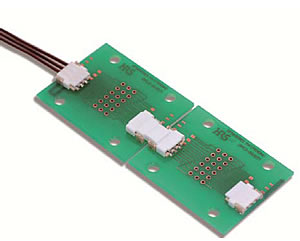 Hirose has announced the new DF59 series connector system, primarily dedicated to the LED lighting market but also suitable for many other applications where small connectors are required.
The multifunctional connector is designed for wire-to-board power supply connections and board-to-board 'bridge' connections. In addition, a shortening plug version is also available. Only one type of receptacle is needed, irrespective of whether the cable plug or board mount plug is used, allowing a reduction in the number of components required.
DF59 has a pitch of 2.0mm or 4.0mm, dependent on the application and the related requirement such as higher clearance and creepage distances for power supply applications. The connection system is rated 3A using the defined cable gauge of AWG 22 (Ø 1.26mm / UL1061). The voltage rating is specified at 100V or 230V dependent on the pin size used.
DF59 is currently available in 2, 3 or 4 and 6 positions, which satisfies a broad range of lighting applications.
The low mated height of 2.5mm and overall small size of 8 x 9 mm (3 pos wire-to-board) is intentionally targeted for bright lighting where many narrowly mounted LED's are used. The compact size of the connector prevents formation of shades and the natural white colour of the moulding material makes DF59 more invisible.
The wire-to-board connector utilises the Hirose 'swing' lock which is a user friendly, innovative locking mechanism allowing an increased cable retention force. The cable end of the plug is mated at a slight angle to engage with the special cavities in the receptacle, the other end of the plug is pushed down to complete the mating operation, which is confirmed by an audible tactile click.
The board-to-board 'bridge' connector is ganged by a "friction lock" system. This has a floating structure to allow a tolerance of +/-0.5mm, in all 3 tri-axial directions allowing greater flexibility during the installation process.
Typical applications for DF59 are LED lighting, battery connections, small DC motor drives, power supplies and many more.
For more information, or details on the full range of Hirose products available from Anglia please email info@anglia.com
Alternatively, click on this link to go to the main Hirose section where you can view other news articles and product data.
This news article was originally published in October 2011.