AD5592R and AD5593R Configurable 8-channel, 12-bit, ADC/DAC/GPIO combination chip from Analog Devices

Piher introduces non-contacting 360° rotary position sensor with switch function for harsh environments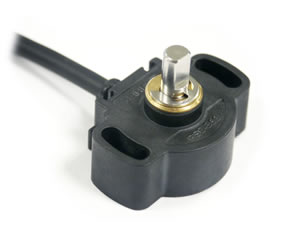 Piher has introduced the non-contacting PSC-360 programmable Hall effect magnetic sensor featuring a switch function not found in other 360º absolute position sensors. The unique switch design incorporates both on and off positions that provides secondary position verification for improved safety, especially important for mission-critical applications in harsh environments.

The PSC-360 sensor also offers high temperature capabilities with operational performance between -40ºC to +150ºC and high accuracy over 360º at 0.5%. Offered in two packaging designs for maximum flexibility, the PSC-360 is available in a bushing/panel mount style or adjustable TPS style with two slotted holes. Both styles feature very low profile packaging with a height of only 13 mm, extremely advantageous for applications with tight packaging constraints.

Traditionally, magnetic sensor performance has been challenged by components' tolerances and thermal and magnetic fluctuations that required complex designs and space-consuming circuitry to solve fluctuations in output signals. The technology used by Piher is only sensitive to the flux density coplanar with the IC surface, which eliminates those problems and optimises accuracy for absolute position feedback from 0 to 360 degrees. The simple, low-cost package maintains a true non-contacting air gap between the rotating magnet and the fixed sensing system.

Designed with the permanent magnet as the only moving component, the PSC-360 sensor provides a mechanical life of up to 50 million cycles. Further durability is provided with the magnet (being) fully sealed and the sensors' electronics (sensing system) encapsulated in moulded plastic, providing a completely sealed IP67 rated sensor that is totally impervious to humidity. These features are ideally suited to harsh environmental exposure where shock, vibration, high humidity and dust are unavoidable.

Piher's technology is not only true absolute - maintaining the sensor's true position even after a power interruption, it also offers full redundancy achieved with a dual core version within the same housing. The result is a highly configurable sensor with a life expectancy of up to 50 million cycles, offering an excellent solution for the severe conditions found in industrial, food processing, agriculture and off-highway applications. Specific uses include hand throttle control and throttle position feedback, accelerator and brake pedals, wheel angle for off highway vehicles and tractors, farm implement position feedback, forklift lift and tilt control, suspension height, marine, cranes and airport ground support vehicles.

Other PSC-360 performance characteristics include linearity of ±1% absolute (0.5% upon request), selectable analog (radiometric), PWM or serial protocol, up to 14 bit angular resolution and self-diagnostics. With the PSC-360's modular architecture and Piher's custom engineered technology capabilities, Piher can modify electrical characteristics, mechanical characteristics, and connector configurations to meet customer specifications. For example, Piher can provide the same full scale output over as short an electrical angle as narrow as15 degrees.
For more information, or details on the full range of Piher products available from Anglia, please email info@anglia.com
Click on this link to go to the main Piher section where you can view other news articles and product data.
This news article was originally published in October 2011.