Introducing DF52 Series, 0.8mm Pitch, Robust, Wire-to-Board Connectors from Hirose, samples available from Anglia

Colourful pushbutton switches from knitter-switch add style to front panel applications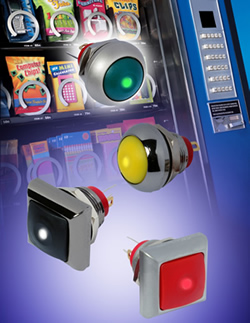 knitter-switch, one of Europe's leading switch manufacturers, announces a new series of pushbutton switches available in a choice of metal finishes and knob colours designed to add style to a wide variety of front panel applications.
The DPWL-D Series can be specified in one of five finishes for its metal bushing – black, Chromium-bright, Chromium-matt, Tin-Nickel and Nickel-matt. In addition, DPWL-D Series switches can be supplied with a wide choice of coloured knobs – white, black, red, orange, green, yellow and blue and with single or dual colour LEDs, also in a choice of colour.
Available as momentary units, the switches have gold over silver contacts and are front panel mounting by thread. Once correctly mounted, they are sealed to IP67.
According to knitter-switch, DPWL-D Series switches will be widely used in many types of industrial control, vending machines, door controls and other applications where an attractive, sealed and illuminated pushbutton switch is required.
tandard switches are available from a number of distributors throughout Europe. Samples are usually available on next day delivery.
For more information, or details on the full range of Knitter-Switch products available from Anglia, please email info@anglia.com

Alternatively, click on this link to go to the main Knitter-Switch section where you can view other news articles and product data.

This news article was originally published in August 2011.