The HVLED805 from STMicroelectronics offers higher reliability and efficiency for ultra-compact LED lamps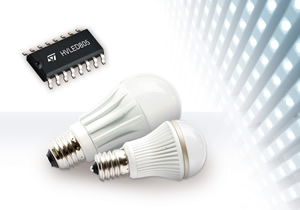 The HVLED805 is a high-voltage primary switcher intended for operating directly from the rectified mains with minimum external parts to provide an efficient, compact and cost effective solution for LED driving.
The IC is a current-mode controller, using primary-side feedback, specifically designed for ZVS (Zero Voltage Switching) fly-back LED drivers, with constant output current (CC) regulation.
The device can also provide a constant output voltage regulation (CV).
The maximum switching frequency is top-limited at 166 kHz, so that at medium-light load a special function automatically lowers the operating frequency still maintaining the operation as close to ZVS as possible, to reduce switching losses and EMI
Although an auxiliary winding is required in the transformer to correctly perform CV/CC regulation, the chip is able to power itself directly from the rectified mains. It also offers protection features that considerably increase end-product´s safety and reliability: auxiliary winding disconnection or brownout detection and shorted secondary rectifier or transformer´s saturation detection. All of them are auto restart mode.
Key Features
• 800 V, avalanche rugged internal power MOSFET
• 5% accuracy on constant LED output current with primary control
• Optocoupler not needed
• Quasi-resonant (QR) zero voltage switching (ZVS) operation
• Internal HV start-up circuit
• Open or short LED string management
• Automatic self supply
• Input voltage feed-forward for mains independent CC regulation
For more information, or details on the full range of STMicroelectronics products available from Anglia, please email info@anglia.com
Alternatively, click on this link to go to the main STMicroelectronics section where you can view other news articles and product data.
This news article was originally published in June 2011.