Murata introduces innovative Piezo Microblower for cooling in small spaces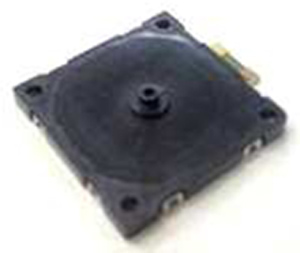 As the design of modern electronics becomes increasingly smaller and higher performance, the heat generation density inside these devices continues to grow. Having an effective heat control system is now one of the most critical considerations within the design, with forced air cooling fast becoming the norm for many applications even for devices where natural cooling was once considered sufficient.
Electronic products with large power consumption such as computers and audio-visual systems commonly have either a heat dissipation unit, for example a heat sink or heat pipe, or an air-cooling unit like a motor fan (DC fan). However, there is a growing need for heat control for much smaller products where these cooling units cannot possibly be installed. In addition to this, some applications require highly localised cooling to supplement the primary cooling system.
To help address these increasingly complex cooling requirements, Murata has introduced an innovative Microblower product which uses a piezoelectric ceramic based drive system that allows for an extremely compact and low profile unit. Using ultrasonic vibration of the piezoelectric ceramic material, the Microblower functions as an air pump discharging high pressure air from a vent nozzle.
The Microblower is much smaller than traditional air-cooling devices, with dimensions of just 20 x 20 mm and a low profile height of 1.85 mm (excluding the nozzle). It is capable of significant air discharges: 1,900 Pa (maximum static pressure at 15V p-p) and 1 litre per minute (at 15 V p-p and under 100 Pa back pressure). An example of airflow performance can be seen in Fig.1. The Microblower also offers much lower power consumption than more common air-cooling devices due to its ceramic based drive system.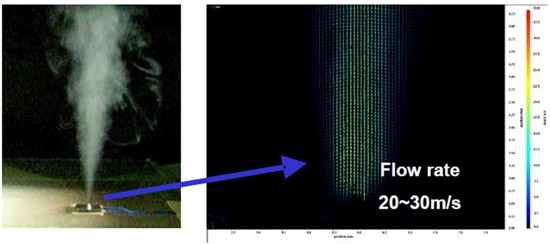 The Microblower can be operated in two different modes. The conventional method is to point the nozzle of the device towards the area that requires cooling thus blowing cool (ambient) air out of the nozzle towards the device. A second possible mode is to position the suction hole at the bottom side of the Microblower, near to the heat source, where it is possible to draw hot air away from the device and then direct it out of the enclosure via the nozzle.
The specification and versatility of the Microblower enables it to be used in a wide range of applications providing localised cooling to critical system components, for example FPGA & DSP devices or Point of Load (POL) power modules, where reliability and performance are extremely dependent on maintaining a stable ambient operating temperature.
In addition to cooling semiconductor devices some other suggested uses are as an air pump, an air supply for industrial machinery or batteries or perhaps simply for dust removal. Other potential applications could include aquarium air pumps and ionising devices.
To help stimulate ideas where this device could be used, Murata have developed some movies demonstrating the versatile Microblower in action in a variety of potential applications such as siphoning, cooling, water jets, water aeration and actuating cylinders and well as a fun demonstration of a hovering Microblower.
Click here to view potential applications.
Click here to download the mechanical drawing.
For more information, or details on the full range of Murata products available from Anglia please email info@anglia.com
Alternatively, click on this link to go to the main Murata section where you can view other news articles and product data.

This news article was originally published in June 2011.