New Cree XLamp® XM-L EasyWhite™ LED delivers lower-cost solution for 25-Watt replacement lamps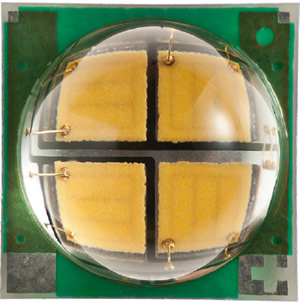 Cree has announced the industry's first lighting-class LED component that combines the high light output and small footprint of the XLamp® XM-L LED package with Cree's unique EasyWhite™ colour mixing technology. The new XM-L EasyWhite LEDs reduce the cost and complexity associated with binning and colour mixing, as well as using multiple discrete LEDs. This can enable customers to reduce the price and improve the performance of LED solutions for compact directional lighting, such as 20-25 watt halogen MR, PAR and B10-style (candelabra) replacement lamps.
In these applications, previous single LED solutions were not able to achieve enough light output to match the incumbent incandescent products. Traditional multi-LED configurations complicate the overall system design and have the added disadvantage of not emulating the look of a light bulb's filament. The XM-L EasyWhite LED enables a single LED component to deliver the performance and design simplicity needed for 25 watt replacement lamps.
At just 4 watts of power, XM-L EasyWhite LEDs produce up to 340 lumens at an operating temperature of 85 C in warm white (3000K) in a single component. Like XLamp MT-G LEDs, XM-L EasyWhite LEDs are characterised at 85 C, allowing customers to accurately select XM-L LEDs at a specific colour temperature. The XM-L EasyWhite is available with the industry's tightest LED-to-LED colourconsistency, replicating the uniformity of incandescent light bulbs.
"XM-L EasyWhite LEDs give customers the best of both worlds: the colour consistency of an EasyWhite array in the compact size of a discrete component," said Mike Watson, Cree, senior director, marketing and product applications, LED Components. "In 2009, Cree was the first LED manufacturer to eliminate binning for LED components with our innovative EasyWhite colour mixing technology. XM-L EasyWhite LEDs, along with the recently introduced XLamp MT-G EasyWhite LEDs, accelerate the adoption of LED lighting into applications traditionally addressed by energy wasting halogen sources."
XM-L EasyWhite LEDs are available in 2-step MacAdams Ellipse colour points. They are also available in either a 6V or a high voltage 12V configuration, which enables the use of efficient, small and low-cost drivers. XM-L EasyWhite LEDs have the same low profile dome and 5mm x 5mm footprint as the current XM-L LED family.
XLamp XM-L EasyWhite LEDs are available now in sample and production quantities with standard lead times. XM-L EasyWhite LEDs are available in both standard CRI and high CRI (minimum 85 and 90) versions at multiple colour temperatures.
Click here to download the datasheet.
For more information, or details on the full range of Cree products available from Anglia, please email info@anglia.com
To visit the Anglia Lighting website, click here.
Alternatively, click on this link to go to the main Cree section where you can view other news articles and product data.
This news article was originally published in May 2011.