8-bit Microcontroller from STMicroelectronics Delivers Uniquely Flexible Feature Set in Space/Cost-Saving 8-Pin Package

LEDIL introduces the STRADA 6in1 asymmetric lens array for street lighting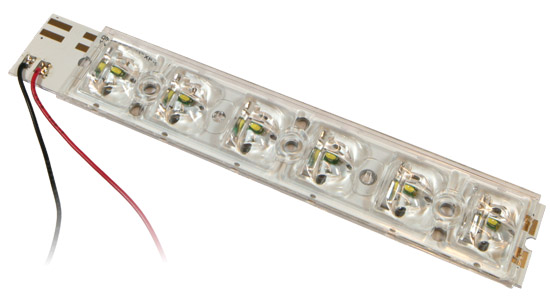 STRADA 6in1 is a result of LEDIL´s long experience in innovative LED optics and great understanding about street lighting demands obtained while working with the earlier Strada versions and street lighting customers around the world.
A real optical solution
STRADA 6in1 provides a total efficiency of over 90% with excellent asymmetrical beam control. Even the most demanding European street light regulations such as ME1 and ME3a can be easily met with high efficiency. Excellent (0.7) longitudinal uniformity of luminance even with pole distances up to 4.5 times the height of the luminaire.
Quick, easy and cost efficient
STRADA 6in1 has been designed to be easily sealed and cleaned, making the use without extra protective glass possible. The lens is designed for quick and easy manual and automated assemblies. A module that holds six individual lenses also ensures good optic per LED prices.

Pros of STRADA 6in1
• Possible to achieve over 90% total optical efficiency
• Optimal light distribution for the most common street light setups in Europe
• Easy and quick to assemble and seal
• Quality for good price
• Technical support
To visit the Anglia Lighting website, click here.
For more information, or details on the full range of LEDIL products available from Anglia please email info@anglia.com
Alternatively, click on this link to go to the main LEDIL section where you can view other news articles and product data
This news article was originally published in May 2011.