New high-efficiency Cree XLamp® LED can reduce initial fixture cost for lighting manufacturers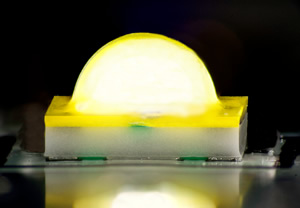 Cree has announced the commercial availability of XLamp® XP-E High Efficiency White (HEW) LEDs . The new high-efficiency components extend the light output and efficacy of the award-winning XLamp XP-E LED family, enabling fixture designs that can use up to 50 percent fewer LEDs, which can help drive down costs for fixture and bulb manufacturers while delivering the same system performance.
XP-E HEW LEDs are optimised to lower initial costs for diffuse lighting applications, such as LED replacement lamps and downlights. For example, an A-19 lamp that uses XP-E LEDs could be re-designed to use half as many XP-E HEW LEDs while maintaining the same efficacy.
"One of the major barriers to LED lighting adoption and design remains upfront cost," said Paul Thieken, Cree director of marketing, LED components. "By enabling designers to use brighter, precisely-optimized LEDs for each particular application, Cree is helping lower costs and further simplifying and shortening the LED fixture design cycle."
XLamp XP-E High Efficiency White LEDs are the first high-power LEDs featuring Cree's new Direct Attach™ LED technology. Direct Attach technology is Cree's unique, next-generation LED chip technology that delivers higher flux, lower forward voltage, and lower thermal resistance.
"With 500 percent more die-attach area and an order-of-magnitude less die under-fill, Direct Attach technology is far more robust than any other LED flip chip technology in the market today," said John Edmond, Cree director of advanced optoelectronics. "For our customers, these attributes, combined with the performance advantages of Direct Attach technology, can translate to brighter, more reliable lamps and fixtures, developed at a lower cost."
XLamp XP-E High Efficiency White LEDs deliver up to 148 lumens in cool white (6500K) and 114 lumens in warm white (3000K) at 350 mA. In addition to light output and efficacy improvements, XP-E HEW LEDs feature a reduced thermal resistance of 6 °C/W. XP-E HEW LEDs are available in the same white variations as XP-E LEDs, including Standard White, Outdoor White and 80-CRI White.
XLamp XP-E High Efficiency White LEDs are available now in sample and production quantities with standard lead times.
Click here to download a datasheet
To view the entire range of XP-E LEDs that now includes Royal Blue colour, click here
For more information, or details on the full range of Cree products available from Anglia, please email info@anglia.com
To visit the Anglia Lighting website, click here.
Alternatively, click on this link to go to the main Cree section where you can view other news articles and product data.

This news article was originally published in May 2011.