Introducing the HR43 Series, High Current, Robust, IP67 Waterproof, Circular Connector for Harsh Environments from HIROSE

Bourns announces new line of shunt protectors designed specifically for sensitive LED lighting applications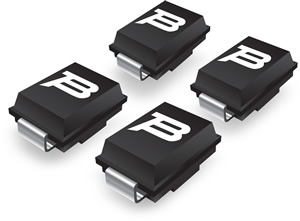 Designated the Bourns® LSP-Series, the new shunt protector family enables LED lighting applications configured in strings to be more robust and reliable.
Most LED designs include solid-state lighting luminaries configured in series strings of 20 or more LEDs. In this configuration, an open LED can cause the entire LED string to go dark, resulting in reduced performance and possible maintenance calls and costly warranty returns. Adding a Bourns® LSP-Series shunt protector to an LED design allows the unaffected lights in the string to remain illuminated by shunting current around the inoperable LED. The new LSP-Series of open LED shunt protectors are an optimal solution for a variety of LED lighting applications including light bulbs, lighting fixtures and backlighting systems.
"LED lighting applications are exploding in volume," said Ian Doyle, product line manager of semiconductor products at Bourns, Inc. "Bourns' new LSP-Series of open LED shunt protectors address the failure rates of early LED designs. Incorporating a Bourns® LSP device into the design of LEDs improves reliability and helps eliminate costly downtime."
The Bourns® LSP-Series of open LED shunt protectors include four models: LSP0600BJR-S, LSP0900BJR-S, LSP1300BJR-S and LSP1800BJR-S. Customers can maximize the level of protection by selecting Bourns® model LSP0600BJR-S and using one device per LED. Alternatively, customers can reduce their protection costs by selecting Bourns® models LSP0900BJR-S, LSP1300BJR-S or LSP1800BJR-S that are able to isolate groups of two, three or four LEDs respectively. Bourns' new device family comes in an SMB surface mount package and is RoHS* compliant.
For more information, or details on the full range of Bourns products available from Anglia, please email info@anglia.com
Alternatively, click on this link to go to the main Bourns where you can view other news articles and product data.
This news article was originally published in May 2011.