Renesas Synergy™ Strengthens Chip-to-Cloud IoT Connectivity with New Enterprise Cloud Toolbox & Evaluation Kit

Cree expands broadest portfolio of lighting-class LEDs optimised for distributed illumination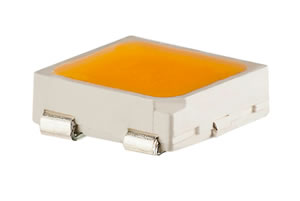 Cree has announced the commercial availability of the XLamp® ML-B LED. Designed for quarter-watt operation, the XLamp ML-B LED brings lighting-class performance to distributed lighting applications where the light source is visible, such as panel lights and LED-based fluorescent tube replacements.
Lighting manufacturers have tried to achieve a uniform lighting appearance by placing many low-power LEDs in close proximity under a diffuser. This use of typical low-power LEDs will not enable manufacturers to meet rigorous ENERGY STAR® requirements or customers' expectations. In contrast, Cree ML-BLEDs are designed to last 50,000 hours and to provide the lighting-class levels of efficacy, thermal resistance and reliability that can enable ENERGY STAR-qualified fixtures.
"The innovative ML-B LED delivers lighting-class performance with the smooth, uniform appearance that lighting manufacturers want for distributed lighting applications," said Paul Thieken, Cree director of marketing, LED components. "The ML-B LED provides the right balance of lumen output, footprint, efficacy and value for direct-view lighting."
The XLamp ML-B LED delivers luminous flux up to 30 lm at 80 mA in cool white (5000 K) and up to 24 lm in warm white (3000 K). The ML-B LED shares the same footprint and package with the XLamp ML-E LED and, like the ML-E, provides uniform colour over angle and a 120-degree viewing angle.
For more information, or details on the full range of Cree products available from Anglia, please email info@anglia.com
To visit the Anglia Lighting website, click here.
Alternatively, click on this link to go to the main Cree section where you can view other news articles and product data.

This news article was originally published in March 2011.