Intersil's new LED driver family features ultra-low dimming to maximise battery life in portable products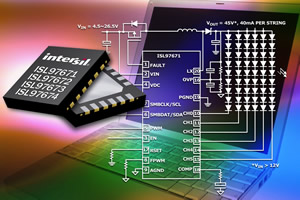 A new family of innovative multi-channel LED drivers from Intersil Corporation provides an ultra-low dimming capability in TFT LCD backlight applications that can significantly extend battery life.
The new, highly integrated ISL97671/2/3/4 series reduces undesirable backlight-induced visual artifacts such as flickering, shimmering and banding that are observed when using conventional LED drivers. The devices minimise power loss by using a proprietary dynamic headroom control circuit to detect the highest voltage LED string, and then regulate the boost output to the minimum required voltage. The devices drive up to six 40mA strings of LEDs from a 4.5V to 26V input. A highly accurate LED current matching circuit achieves an industry-best ±0.7% current matching between LED strings. The ISL97671/2/3/4 series also includes an integrated boost converter to step-up the input voltage to support LED stack voltages up to 45V.
Adaptive Boost Control Circuit Regulates Output Voltage
The drivers maintain dimming linearity even at low LED PWM duty cycles by using an adaptive boost control circuit that regulates the output voltage even when the LEDs are off for most of the PWM cycle. Using this proprietary boost architecture, the ISL97671/2/3/4 series responds to very low PWM duty cycles and provides dimming down to just 0.007% of full brightness with a 200Hz PWM frequency. Dimming may be controlled by direct PWM dimming or by using 8-bit digital dimming via an I2C/SMBus interface.
The devices' phase shift capability can turn LED strings on at a specified phase, reducing peak input current by distributing channel currents within the dimming period. This feature contrasts with conventional multi-channel LED drivers, which turn all LED strings on and off simultaneously.
To ensure the highest reliability, the series includes extensive protection features such as over-temperature protection, over-voltage protection and LED open/short circuit protection. The devices integrate power MOSFETs for the boost converter and channel regulation circuitry, providing design flexibility in a very compact solution.
The ISL97671/2/3/4 series is available in a compact 20-lead 4mm x 3mm QFN package.
Click on the links below for more information.
ISL97671: http://www.intersil.com/products/deviceinfo.asp?pn=ISL97671
ISL97672: http://www.intersil.com/products/deviceinfo.asp?pn=ISL97672
ISL97673: http://www.intersil.com/products/deviceinfo.asp?pn=ISL97673
ISL97674: http://www.intersil.com/products/deviceinfo.asp?pn=ISL97674
For more information, or details on the full range of Intersil products available from Anglia, please call +44 (0)1945 474747 or email info@anglia.com
Alternatively, click on this link to go to the main Intersil section where you can view other news articles and product data.
This news article was originally published in December 2010.