Kyocera AVX latest PrizmaCap offers Best-In-Class performance, samples available from Anglia

Automotive News from Anglia

Equipped with metal pins, Murata's new KCM capacitor series has been specifically designed for long-term resilience against sharp temperature changes in automotive environments and to withstand the high levels of vibration and mechanical impact.

Anglia will be exhibiting at the Commercial Vehicle Show, 24th - 26th April, at the NEC, Birmingham. Hall 3 Stand G23.

Intersil has introduced a space-saving, AEC-Q100-qualified dual synchronous step-down DC/DC regulator featuring a 2.25MHz switching frequency to minimise solution size.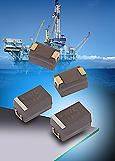 Based on a unique design, distinct manufacturing processes and special ageing techniques, these capacitors guarantee high temperature performance for a variety of harsh applications such as oil drilling, aerospace/defense and automotive.

Panasonic has released the FP-Series, a new range of surface mounting aluminium electrolytic capacitors with significantly lower ESR characteristics, offering a serious and cost effective alternative to tantalum capacitors.

STMicroelectronics has announced that the successful sampling of the second generation of their system-on-chip EyeQ2 for the vision-based driver assistance segment of the automotive market.

Murata's piezo sounders and buzzers are available in low profile and lightweight SMD packaging to suit a wide variety of applications, consuming very little current compared to magnetic/dynamic sound components.

The AIS326DQ is the first Automotive-qualified low-g accelerometer addressing non-safety applications.

STMicroelectronics has introduced its first automotive-qualified three-axis MEMS accelerometer. The new device is qualified to AEC-Q100 for automotive applications.

STMicroelectronics is the first to introduce a single chip that produces the major signals required to drive vehicle door-mounted systems as well as an improved method for controlling electrochrome (EC) rear-view mirrors.