Supporting the latest standards for secure networking: The new Panasonic PAN9520 Wi-Fi module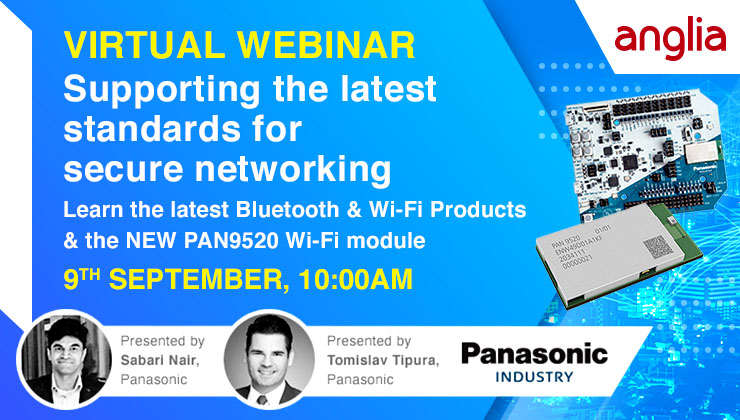 9th September 2021, 10:00
Hosting Platform: Zoom
In this 60-minute session, Panasonic, will provide a brief overview of their Bluetooth and Wi-Fi product range.

Following this, there will be a technical presentation of the NEW PAN9520 2.4 GHz 802.11 b/g/n embedded Wi-Fi module. The module is based on Espressif's ESP32-S2 that includes the powerful Xtensa® 32-bit LX7 CPU.
The PAN9520 is one of the smallest modules on the market, this offers a rich set of peripherals like full-speed USB OTG, SPI, UART, I²C, and many more.

Parallel support of access point and station mode allows easy setup of simultaneous Wi‑Fi connections from the module to smart devices and home network routers.
The session will also include an explanation and demonstration of the PAN9520 evaluation kit showcasing a video live stream.
The option of samples or an evaluation board will be available to all attendees.
Agenda
10:00
Session starts / Welcome from event collaborator, Andrew Pockson @ Anglia
10:05
Overview of Panasonic connectivity products, Sabari Nair @ Panasonic.
An introduction to the Bluetooth and Wi-Fi module solutions available from Panasonic.
10:15

Technical deep dive and demonstration of PAN9520 Wi-Fi module, Tomislav Tipura @ Panasonic.

This session will discuss the module in more detail, including the key features of the PAN9520, which include,

Xtensa single-core 32-bit LX7 microprocessor, up to 240 MHz
Chip internal 128 kB ROM, 320 kB SRAM, and 16 kB low power SRAM
Integrated QSPI Flash and PSRAM (a variety of memory densities are available)
Ultra-Low Power (ULP) co-processor usable in deep sleep mode
All security features required for WPA2 and WPA3 personal
Espressif Integrated Development Framework (ESP-IDF) with a multitude of examples available for software development
Supports 20 MHz and 40 MHz bandwidths in 2.4 GHz band with data rates up to 150 Mbps
Simultaneous support for Infrastructure Station, SoftAP, and Promiscuous modes
802.11mc Fine Time Measurement (FTM)

Following this there will be a demonstration of the PAN9520.

This will explain the hardware and software requirements, including code explanation needed to showcase a livestream of a camera in a web browser.

10:50 Q & A / Closing statement
11:00 Event closes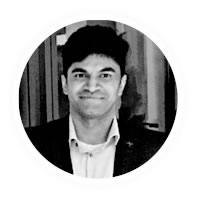 Presenter: Sabari Nair
Job Title: Business Development Manager, Panasonic
Presenter Bio: Sabari is a telecommunications engineer with experience in cognitive radio and ad-hoc networks. Sabari started his career as a Systems Engineer for state-of-the-art radar technologies such as ADS-B and multilateration, later gained experience as a Product Development Manager.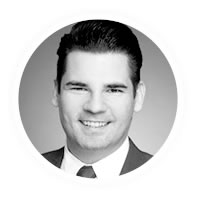 Presenter:Tomislav Tipura
Job Title: Product Manager, Panasonic
Presenter Bio: Tomislav has studied Electrical Engineering in Munich and obtained a Master of Science degree with a focus on Control Theory in Electrical Drives. After gaining experiences as a working student in R&D and Rapid Prototyping departments in Mechatronics, he started working at Panasonic Industry Europe GmbH