ABSW series of kHz Crystals from Abracon provide the heart beat for low power IoT applications, samples available from Anglia

Heavy duty enclosures for harsh conditions from Deltron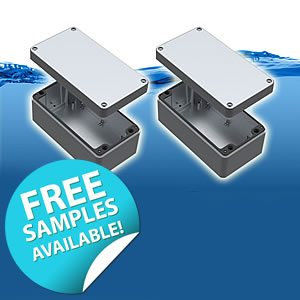 DEM Manufacturing, the UK manufacturer and supplier of Deltron enclosures, has launched a new range of heavy duty, IP rated industrial enclosures suitable for use in harsh environments. The new range of enclosures are manufactured in the UK and meet minimum exposure IP66 and IP68 for protection against jets of water and full submersion.
These heavy duty electrical enclosures are manufactured from LM2 die cast aluminium alloy making them ideal for use in harsh conditions such as deep water applications within the oil and gas industries, and in offshore/marine environments.
The new heavy duty enclosure series boasts a unique sealing mechanism, developed to ensure minimum exposure for IP66 and IP68 compliance and are certified to BS EN 60529:1992. The IP68 enclosures are suitable for continuous submersion up to depths of ten metres, for up to 20 hours.
The Deltron heavy duty enclosure range incorporates a unique and innovative lid design, which encloses the silicone seal well inside the box thus still allowing contact between the lid and base to give excellent EMI/RFI (Electromagnetic and Radio-Frequency Interference) screening. The silicone seals make the new range both oil and petrol resistant while captive screws improve security and eliminate snagging.
Following extensive research the new range has been designed with optimum internal free space to allow for numerous mounting options including DIN Rail mount, studs and Printed Circuit Board (PCB) card guides, all of which can be removed without difficulty to reclaim internal space. The new enclosure range also has a range of accessories available including DIN rail, earth cable and base plates.
The heavy duty enclosure range is available in a wide range of sizes from 130mm x 80mm x 60mm (LxWxH) to 260mm x 160mm x 120mm and is available in a choice of 3 standard finishes, plain metal, Grey or Black painted. Deltron can also offer customised finishes with a machining and painting service, backed up with 3D CAD modelling.
Click here to view the range available from Anglia Live
The new heavy duty enclosure range is suited to demanding applications including automotive, industrial automation, marine, military ground systems, renewable energy, test and measurement, traffic management and monitoring, transportation and utilities.
Anglia are offering customers a FREE sample of the Deltron heavy duty enclosures, please fill in the form below to request your FREE sample now
Requesting....
For a FREE Deltron enclosure sample please fill in the form below
| | |
| --- | --- |
| First name | * |
| Last name | * |
| Company | * |
| Telephone | * |
| Email Address | * |
| | |
| --- | --- |
| Project Name | |
| Project Volume | * |
Project Description
For more information, or details on the full range of Deltron Enclosures products available from Anglia, please email info@anglia.com
This news article was originally published in October 2015.