Join the Renesas Tech Days 3D Virtual Experience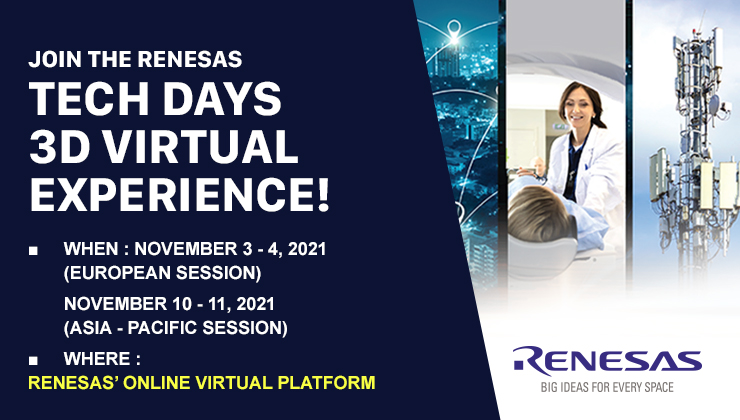 3-4th November 2021
10-11th November 2021
Join Renesas for 1 of 2 repeat sessions on November 3-4 during local European business hours, or November 10-11 during local Asia‑Pacific business hours. Both sessions will be conducted in English. Attend whichever session fits your schedule best. Watch on‑demand keynotes from Renesas product executives and access a series of on‑demand technical deep‑dives, all newly created for these events and all hosted in Renesas' 3D Virtual Experience.
At this immersive experience, you will:
Visit the Theatre for keynote presentations:
Excellence Beyond the Edge: How We're Accelerating Renesas' MCU Strategy

Roger Wendelken, SVP, MCU Business Unit

Accelerating Innovation at the Edge: Renesas' RZ Embedded Processing Platform

Hiroto Nitta, SVP, SoC Business Unit

Advancing the Connected World Through Technology

John Evans, Director, Global Field Applications
Visit the Breakout Room for on‑demand deep‑dives into six key technology tracks that you can visit at any time, with document downloads and direct contact with Renesas experts if you need it:
Smart IoT Solutions Enabled by Renesas' Advanced Sensors
AI and Machine Learning at the Edge with RZ/MPU - Dynamically Reconfigurable Processor
Renesas Offers Innovative Motor Control Solutions for Consumer, Industrial, and Robotic Applications
IoT Cloud Development with Renesas RA MCUs and the Flexible Software Package
Accelerated MPU Design with Small Form-Factor, Ready-to-Use RZ-Based System-on-Modules
Custom Circuits in Minutes with GreenPAK™ Programmable Mixed Signal Matrix
Powerful and Easy‑to‑Use Gateways to Personal Wireless Connectivity
During the event you will be able to submit your questions or comments to the Renesas sales experts for fast, dedicated responses.