STMicroelectronics support condition monitoring and predictive maintenance industrial IoT designs with SensorTilewireless development platform, evaluation board and samples available from Anglia

Anglia expands buzzer and sounder range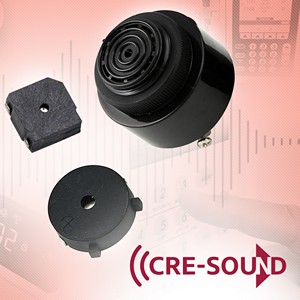 Anglia has greatly enhanced its range of magnetic and piezo buzzer products following the signing of a distribution agreement with Cre-sound, a leading global manufacturer
Wisbech, 14 October 2019 Anglia has greatly enhanced its range of magnetic and piezo buzzer products following the signing of a distribution agreement with Cre-sound, a leading global manufacturer.
Commenting, David Pearson, Technical Director, explained that the move was in response to growing demand for smaller SMD sounders, driven especially by IoT applications. He explains, "Sound components are widely used where a product needs to give the user or operator an audible status sound such as on control panels. Buzzers are a quick, simple and economical way of providing a warning or confirming an operation. Cre-sound is an established, quality manufacturer, which exports over 95% of its production all over the world."
Rose Song, General Manager at Cre-sound added, "Cre-sound is proud to partner with Anglia, a top distributor with a reputation for great service and strong technical support. We are an international business focussed on expanding our global sales, and we believe that Anglia will take us to new customers in the UK and Ireland.
Established in 1994, Cre-sound Electronics is a world leader in SMD buzzer and transducers. It offers automotive buzzers, piezo buzzers, piezo transducers, electromagnetic buzzers, electromagnetic transducers, speakers, receivers and piezo elements. Anglia is supporting Cre-sound with a comprehensive UK-held inventory profile across the entire range of products which is offered through Anglia Live.
http://www.anglia-live.com/manufacturer/cre-sound-electronics/Sounders-Buzzers
For more information, or details on the full range of products available from Anglia, please email info@anglia.com
This news article was originally published in October 2019.