Introducing the CX series next generation USB Type-C compliant interface connector from HIROSE

AVX Introduce First Wire-to-Board RF Coaxial IDC Connectors for Industrial & Automotive Applications, samples available from Anglia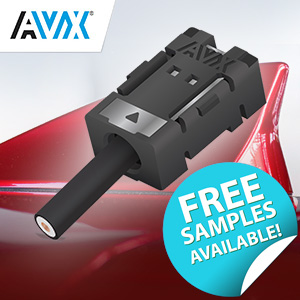 AVX Corporation, a leading manufacturer and supplier of advanced electronic components and interconnect, sensor, control, and antenna solutions, has introduced the first wire-to-board RF coaxial IDC connectors for industrial and automotive applications.
The 00-6791 Series of RF Coaxial IDC Connectors from AVX is comprised of two small, single-piece solutions suited to different types of coaxial cable and features a patented one-touch coaxial cable termination mechanism that both simplifies the connection process and outperforms competing solutions in terms of size, cost, quality, and performance. The new RF IDC connectors deliver high-quality RF performance that surpasses that of cables soldered directly to a PCB, have a lower component cost and smaller physical size than traditional two-piece RF connectors with comparable performance — measuring down to 10mm x 6.6mm x 3.9mm (L x W x H) when seated, and enable easier, less time-consuming, and less costly assemblies than both soldered connections and traditional RF connectors.
The connectors have been designed to satisfy demanding automotive and industrial requirements ranging from rugged constructions to space constraints, time savings, and cost efficiencies, the series features mechanical bracing for high-strength performance capabilities and is fully compatible with both automated SMT pick-and-place processing and automated lead-free reflow soldering, which significantly enhances connection quality, reliability, and repeatability and enables employment in the automotive industry, which is fast moving away from hand soldering processes.
The new 00-6791 Series RF Coaxial IDC Connectors are also compatible with Bluetooth, GPS, GSM, and WLAN protocols and are rated for 0.5A (depending on the cable), 125VAC operation, 70N of horizontal pull-force, 20N of vertical pull-force, and frequencies up to 6GHz, which makes them well suited for use in a variety of space-constrained industrial, automotive, and consumer market applications including shark fin automotive antennas, smart meters, security access terminals, and industrial automation equipment.
The termination process for the new RF IDC connectors requires only three simple steps: strip the outer jacket and braid shield, insert the cable with the inner jacket still intact, and manually or automatically depress the insulator cap. This process allows the IDC contacts to pierce the coaxial cable jacket and dielectric and make direct contact with the braid shield and conductor at the same time. Three windows in the series' insulator caps reveal the position of the cable, enabling visual confirmation of proper termination, and are compatible with camera-enabled automated cable positioning verification systems. Further, should anything happen during the production process that requires the removal of the connector or cable, the caps can be removed to expose the contact tails, which can then be heated and either reworked or removed as well.
Currently available in two versions for different cable sizes, the 00-6791 Series RF Coaxial IDC Connectors feature phosphor bronze signal and braid contacts, glass-filled Nylon 46 insulators, lead-free tin-over-nickel-plated terminations, and a stainless steel support plate and are RoHS-compliant, supplied in tape and reel packaging, and fully compatible with both SMT pick-and-place machinery and lead-free reflow soldering processes. Operating temperatures for the series extend from -40°C to 105°C, with heat resistance during reflow extending to 260°.
The 00-6791 Series RF Coaxial IDC Connectors from AVX are ideal for use in consumer, industrial, automotive, medical, communications, instrumentation, security and metering applications.
Key features
Ideal replacement for costly traditional RF connector systems
Good RF performance up to 6GHz
Current rating up to 0.5A (depending on cable)
Voltage rating 125 VAC
Mechanically strong with peel off force up to 70N
Compact size 10mm x 6.6mm x 3.9mm (assembled)
Easy assembly process with ability to automate
Operating temperature range -40°C to 105°C
Click here for more information or to buy from Anglia Live.
Click here to download the AVX Wire-to-Board connector brochure
Anglia are offering customers FREE samples of the 00-6791 series RF Coaxial IDC connectors from AVX, please fill in the form below to register for your FREE samples now.
Requesting....
To register for FREE samples of the 00-6791 series RF Coaxial IDC connectors from AVX, please fill in the form below.
| | |
| --- | --- |
| First name | * |
| Last name | * |
| Company | * |
| Telephone | * |
| Email Address | * |
| | |
| --- | --- |
| Project Name | |
| Project Volume | * |
Project Description
FREE samples for UK and Ireland customers only, subject to availability.
For more information, or details on the full range of AVX products available from Anglia, please email info@anglia.com
This news article was originally published in August 2019.