Bergquist extends phase-change thermal materials range with high temperature, high conductivity Hi Flow 650P variant

AVX expands leaded M123 Series to provide 1uF values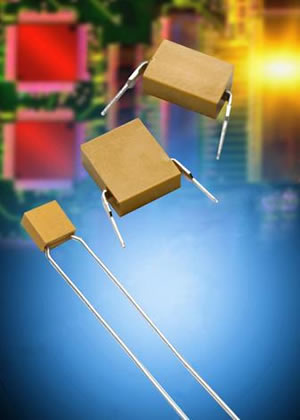 AVX has introduced 1uF values in two package styles of the M123 Series. The M123A18BXB105KC capacitor features a unique design characteristic, offering a 2-pin DIPGuard® option, while the M123A02BXB105KC device is an extension of the capacitance offering for the moulded radial configuration.
Tested in accordance with MIL-PRF-123 specifications, the M123 Series is designed for mission-critical applications, including military, defence and aerospace, where high performance and superior reliability are required.

"The M123 Series of capacitors offer proven technology for applications requiring space-level reliability," said Dan Lane, marketing manager at AVX. "The MIL-qualified ceramic capacitors are designed for use in critical applications such as space, where very high reliability is required in harsh environments with lasting performance."

AVX offers the largest portfolio of MIL-PRF-123 approved capacitors, with a wide range of capacitance values, tolerances and physical configurations available.
For more information, or details on the full range of AVX products available from Anglia, please email info@anglia.com
This news article was originally published in November 2011.