Introducing the HR43 Series, High Current, Robust, IP67 Waterproof, Circular Connector for Harsh Environments from HIROSE

LEDiL announces availability of LENA series AR111 reflectors for Cree CXA2011 LEDs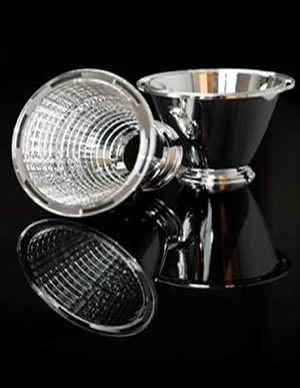 LEDiL's precision-moulded AR111 (111mm diameter) LENA reflector series allows for rapid deployment of new lighting solutions using lighting-class LEDs. Lighting designers now have a more reliable, low-cost choice than traditional drawn or spun metallic reflectors.

Moulded from durable polycarbonate plastic resin, the optimal optical geometric design achieved in the design process is reproduced in the moulding process. The reflectors, currently available in +/-5 degree. +/- 9 deg and +/- 20.5 degree FWHM (full width half modulation) beam patterns, are finished in an aluminium coating with a protective lacquer finish and provide greater than 90% optical efficiency. The two-piece design includes an adapter base that is easily fastened to the PCB and a unique bayonet-style locking system for quick attachment of the reflector cup to the adapter, making LENA simpler to mount than traditional metallic reflectors. A secondary clip in sub-lens is available when a smoother, more diffused beam pattern is desired.

Lighting designers are rapidly developing LED-based solutions that take advantage of the up-to 80% reduction in power afforded by solid-state technology and the long-life span of LEDs. LEDiL's LENA reflectors allow immediate deployment – with no tooling investment – of LED-based fixtures to replace traditional halogen or incandescent bulbs in applications where directed light is favoured, such as in spotlights in retail displays, meeting rooms, or in restaurants and bars. LENA reflectors are also ideal for use in museums and galleries as there are no damaging UV rays or heat in the beam.
To visit the Anglia Lighting website, click here.
For more information, or details on the full range of LEDIL products available from Anglia please email info@anglia.com
Alternatively, click on this link to go to the main LEDIL section where you can view other news articles and product data
This news article was originally published in October 2011.