New Cree XLamp® MT-G LED delivers unprecedented performance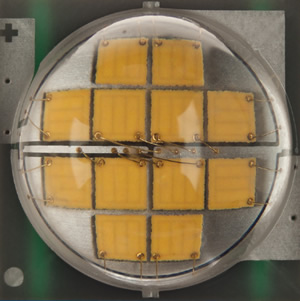 Cree has announced a new lighting-class LED designed for high-output, small form-factor directional lighting applications. The XLamp MT-G LEDs are optimised for 35W-50W halogen MR16 retrofit bulbs and other accent, track, display and down lighting used in retail stores, residential settings, museums, art galleries, hospitality and landscapes and are the first commercial LEDs to deliver sufficient light output for these applications.
The multi-die XLamp MT-G LED features Cree EasyWhite™ technology to deliver consistent colour in a small, highly efficient package. This innovative LED is designed for the high-lumen, small-footprint requirements of 35 and 50 Watt halogen retrofit lamps. Cree engaged driver, thermal and optic providers to create an MR16 lamp reference design to further enable its LED customers to quickly address this market. The reference design is available for free at mtg.cree.com.
"To date, there are no energy-efficient alternatives for many high-lumen, small form-factor, directional lighting applications. Until now, LED-based MR16 lamps have been a tremendous challenge for the lighting design community in terms of both light output and colour consistency due to their small size and limited capacity for thermal management,"said Paul Thieken, Cree, director of marketing, LED components. "Creedeveloped this LED from the ground-up with applications like these in mind, and its introduction signals the arrival of the LED lighting revolution in these high-profile markets."
The XLamp MT-G LED is the first in the industry binned and tested at 85 degrees C which can simplify luminaire design calculations and speed time-to-market. With a 9mm x 9mm footprint, the MT-G LED delivers up to 560 lumens at 1.1A at 85 C or up to 1525 lumens at 4A at 85 C in warm white (3000K).
Click here to download a datasheet
For more information, or details on the full range of Cree products available from Anglia, please email info@anglia.com
To visit the Anglia Lighting website, click here.
Alternatively, click on this link to go to the main Cree section where you can view other news articles and product data.

This news article was originally published in May 2011.