Business managers for Anglia lighting division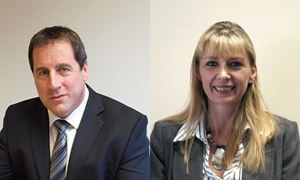 Wisbech, UK, 17 February 2011 – To support the continuing expansion of its lighting division Anglia has created two new regional business manager positions. Mark Pinkney has been promoted to Lighting Business Manager for the North while Cheryl Wicks has been recruited as Lighting Business Manager for the South.
Solid state lighting is creating a huge impact in today's lighting industry by utilising the benefits of LED technology. Anglia Lighting is dedicated to providing a broad range of products to manufacturers, contractors and installers of LED lighting systems with the emphasis on inventory, technical support and design guidance. Anglia Lighting's in-house design capability can assist manufacturers during the design process, from selecting the LEDs, matching them with drive circuitry, cooling components and lenses, through to PCB layout and production. This capability is backed up by Anglia's in-depth stock profile on key product lines from market-leading suppliers.
Commenting, John Bowman, Semiconductor Marketing Director said, "Anglia is experiencing exceptional growth and development in the solid state lighting market. It is essential we maintain our investment in the resources and our ability to fully support the needs and demands of this burgeoning marketplace. The addition of two new regional managers for our lighting business will enhance and bolster our customer facing resource in this exciting industry sector."
Pinkney has over 10 years of field sales and account management experience with Anglia. This was preceded by 15 years of industry experience in purchasing and technical support roles with a leading global lighting manufacturer.
Cheryl Wicks joins Anglia from Young Electronics Group where as a Divisional Manager she was responsible for LED product management and business development.  She also held a number of sales and marketing positions supporting key semiconductor and passive franchises.
Visit the Anglia lighting website for more information: www.anglia-lighting.com
About Anglia
Anglia is the UK's leading independent authorised distributor of semiconductors, optoelectronics, interconnect, and passive and electromechanical components. The company is a signatory of the ADS SC21 programme and holds AS9120, ISO9001, ISO14001 accreditations and IECQ-CECC qualification. Anglia's exceptional technical support spans a fast sampling service, telephone advice from product specialists, on-site visits from field applications engineers and, ultimately, electronics design. An in-house team of designers adds expert resources to customers' design teams, helps reduce final product costs and accelerates development times. Anglia stocks over 700 million components from 500,000 product lines in the UK, and streamlines its customer's logistics and reduces costs through KAN-BAN, EDI, and customer-dedicated inventory.
For further details please contact:
Michelene Hircock at Anglia, Sandall Road, Wisbech, PE13 2PS, UK.
Phone: +44 (0)1945 47 47 47; Web:
www.anglia.com
; Email:
mh@anglia.com

Click here for a PDF copy of the press release

Click here for press release image Cheryl Wicks


Click here for press release image Mark Pinkney


Press Release by
Neesham PR
Peter van der Sluijs

peterv@neesham.co.uk
+44 (0) 1296 628180
This news article was originally published in February 2011.